A Life Story in Pictures
'The Self-portraits of Lique Schoot are visual autobiographical statements that reflect current times'
Grant – Project Investment Artist by Mondriaan Fund
20 Days with Hair Towels (2008 – 2019)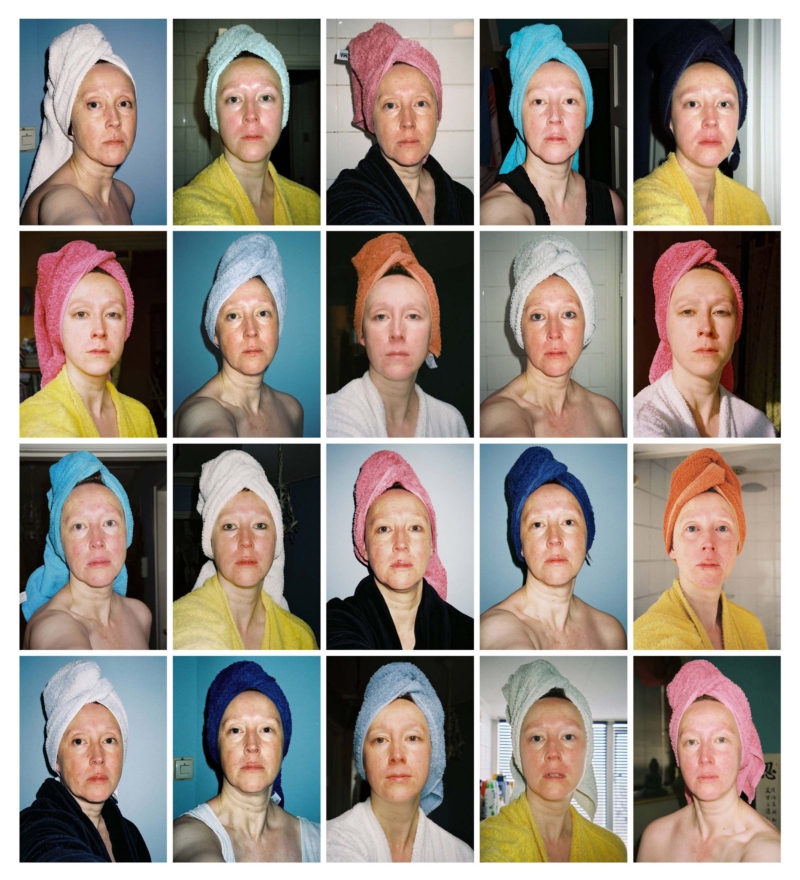 Design for 20 Days with Hair Towels (2008 – 2019)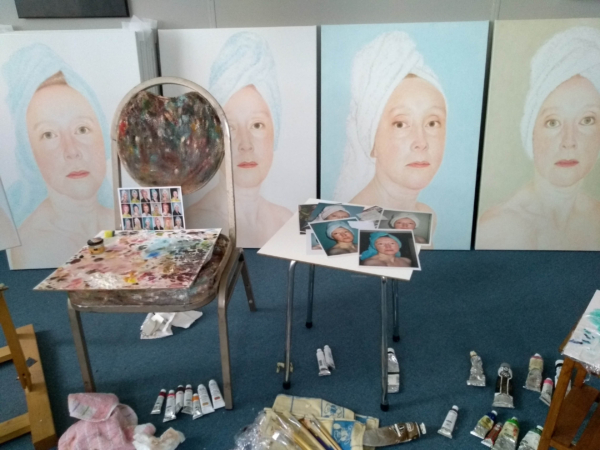 Studio – September 25, 2020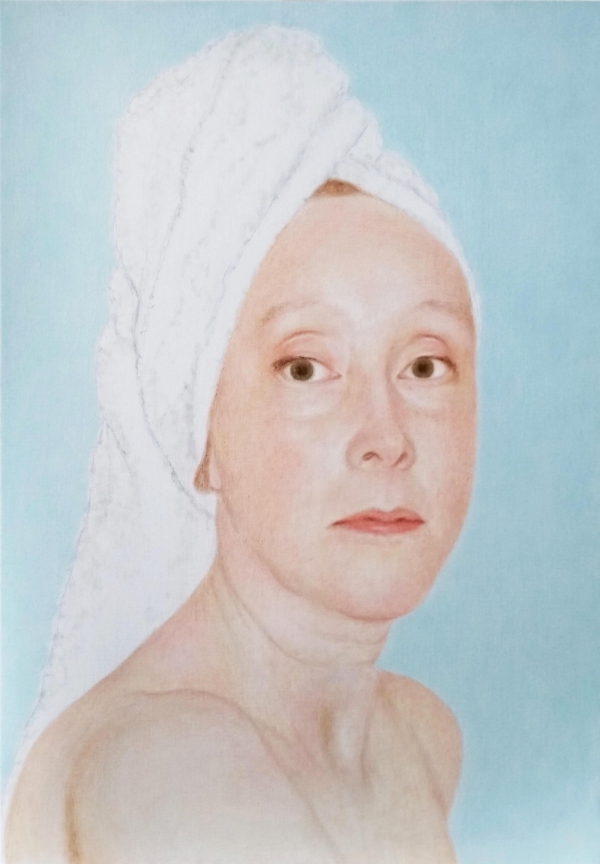 Self-portrait 19 01 23
2020
Oil on linen
100 x 70 cm I 39.4 x 27.6 in
The painting installation "20 Days with Hair Towels (2008 – 2019)" shows a contemporary view of humanity with regard to the "selfie" era. The question "who we are" seems more important than ever. Fear and doubt about our existence have been playing a role for some time due to rapid technological developments; attacks and threats of war, and recently the corona crisis. Our view of humanity has partly been turned upside down. This existential crisis "who am I" is portrayed in a penetrating way because the many eyes of the self-portraits are focused on the viewer.
The work consists of 20 canvases measuring 100 x 70 cm, painted with oil on linen. The total installation is more than 4 meters high and 4 meters wide.
The basis for the work are the self-portraits in color from the visual diaries (LS diaries), in which the artist has just emerged from the shower with a towel "headdress" wrapped around her head, her skin slightly swollen and irregular from the warm water. Her eyes openly and directly engage the viewer.
The medium of oil paint is chosen because it creates a physical presence. Enhanced by the visibility of the canvas through the paint, the translucence of the thin layers mimics the tactility and fragility of human skin.
The photos were taken between 2008 and 2019 and show one face across a period of more than 10 years. The repetition flattens the chronology and emphasises the resilience of the soul. Together, the separate works form a strong and colorful whole.
Virtual Exhibition – Koehnline Museum of Art, USA
'Where Are We Now?: Activism of the Everyday'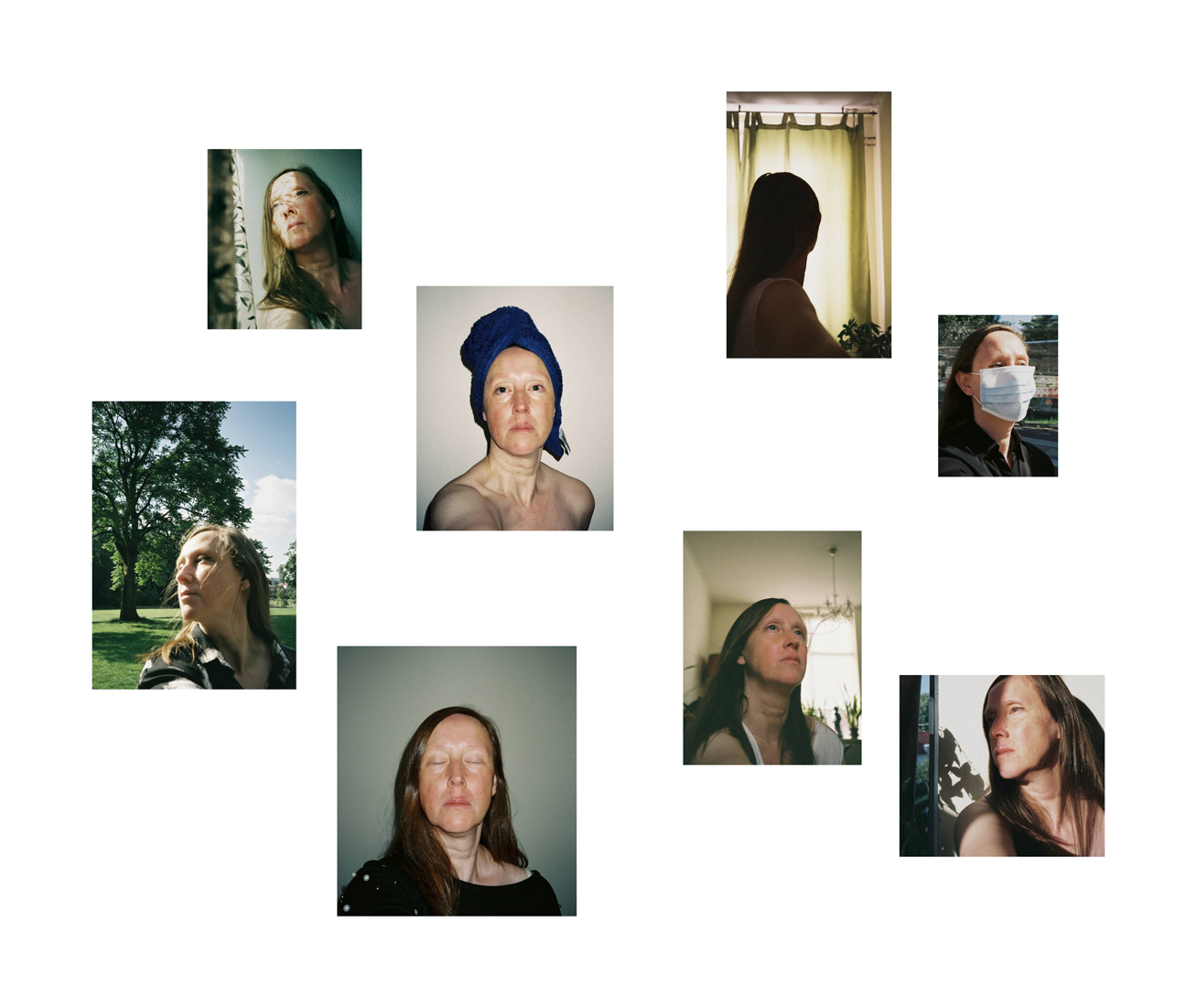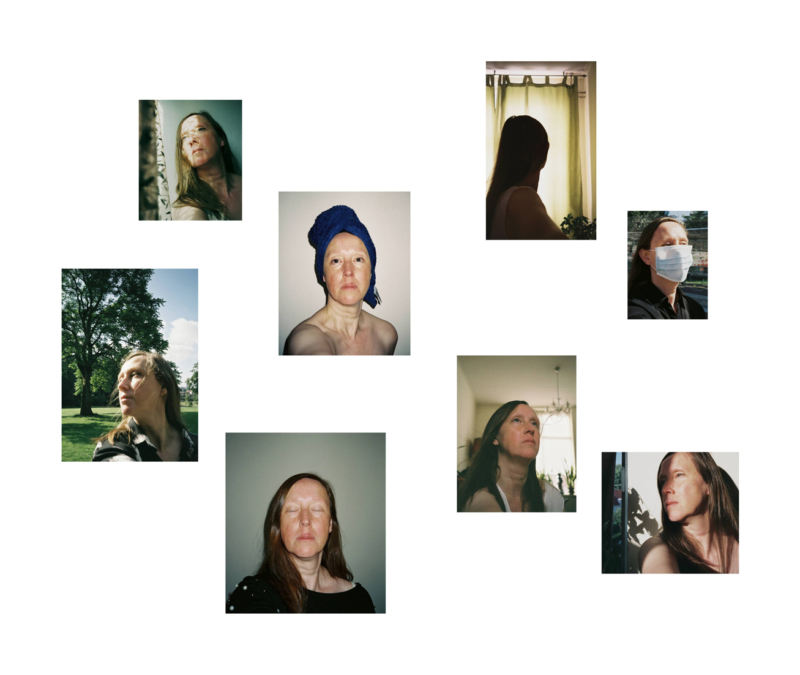 8 Days in June 2020 (The Corona Diaries)

2020
Prints on alu-Dibond
183,2 x 224,8 cm I 72.1 x 88.5 in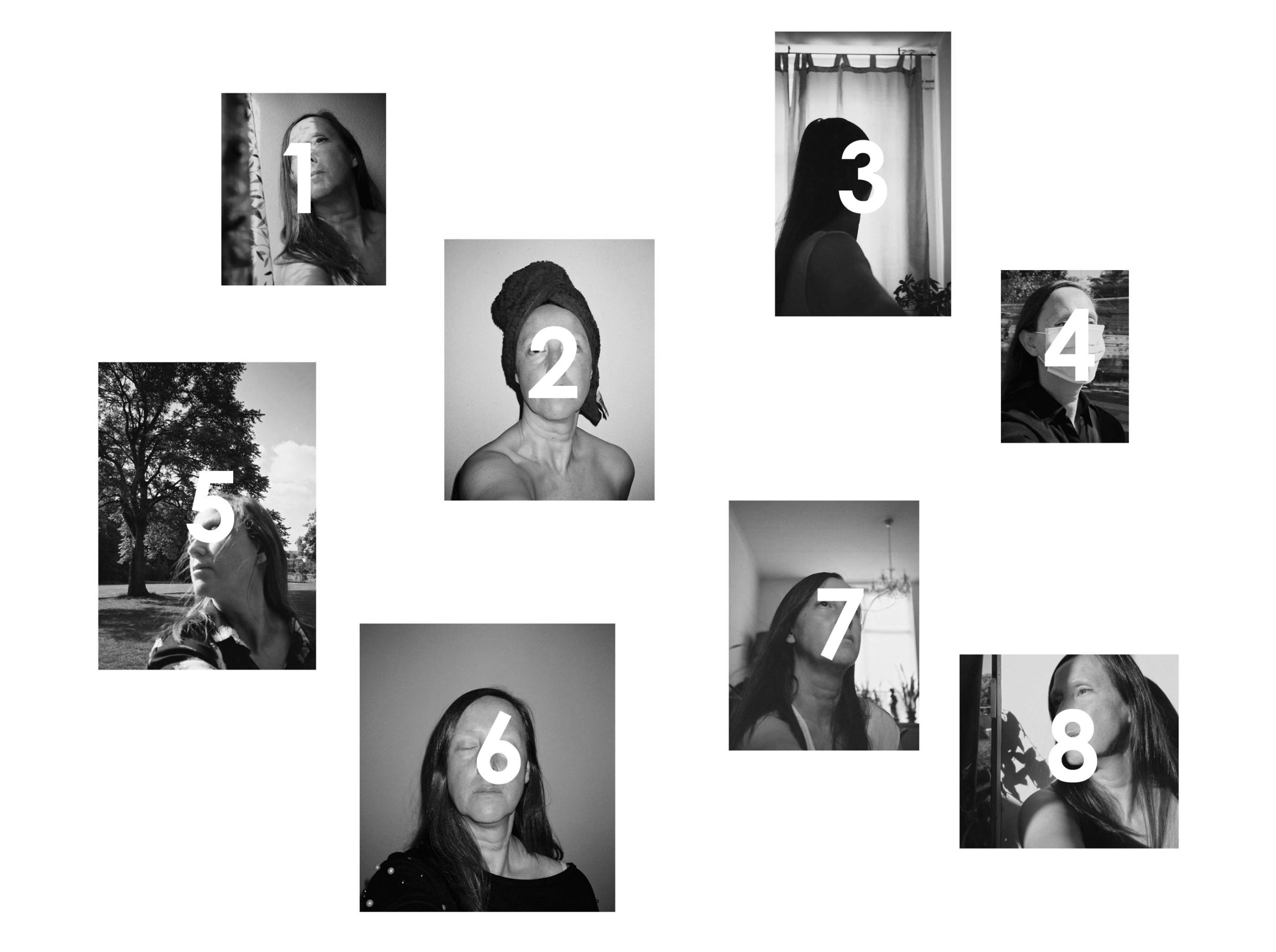 Self-portrait 20 06 12 – Bedroom, Arnhem, NL – 2020
Self-portrait 20 06 15 – Hallway, Arnhem, NL – 2020
Self-portrait 20 06 23 – Living room, Arnhem, NL – 2020
Self-portrait 20 06 01 – Bus Station Velperplein, Arnhem, NL – 2020
Self-portrait 20 06 20 – Park Sonsbeek, Arnhem, NL – 2020
Self-portrait 20 06 17 – Living room, Arnhem, NL – 2020
Self-portrait 20 06 26 – Living room, Arnhem, NL – 2020
Self-portrait 20 06 21 – Living room, Arnhem, NL – 2020
Where Are We Now?: Activism of the Everyday
October 19 –  November 20, 2020
Juried Virtual Exhibition
The only thing constant is change. Evolution can feel like aspiration or like a myth. As a society and as individuals, we've made great and sometimes painful strides full of triumphs, discoveries and promise. And just as swiftly and interchangeably, we can devolve – facing our ugliest selves and bitter realities. This life is a dance and a struggle. At times we are weak, ready to give up, and in other moments or situations, we are empowered and strong, fighting for a new day. We are a complex mixture of awe, confusion, harmony, despair, irony, conflict, epiphanies, and love because we are exquisitely human, beautifully flawed. How did we get here? How have we pushed back, fought each other, taken up space, loved each other or given in to something bigger than us – for better or worse? Who are we now – as global citizens, as women, as providers, as Americans, as voters entering an election year, as lovers, as activists, and as individuals? Where are we going? And why does it even matter?
The works are focused on women in the United States or globally, have a contemporary or historical context in either the public or private sphere.
The exhibition is sponsored by the Koehnline Museum of Art and the Women's Gender Studies Program.
Printed catalogue available.
Koehnline Museum of Art
1600 East Golf Road
Des Plaines, IL (near Chicago)
USA
The Corona Diaries : March 2020 – present

'The Corona Diaries' are recent installations of the 'LS diaries Color' photographs. They show daily life in times of Corona. The cinematic fragments take place between dream and reality, showing the inner life of the artist.
Within the 'LS diaries Project', which started in 2003, 'The Corona Diaries' play an important role because the philosophical questions 'Who Am I ? – Who Are We ?' are more relevant than ever during the pandemic crisis.
Installations so far :

7 Days in March 2020
8 Days in April 2020
8 Days in June 2020 (see image above at Exhibition – Koehnline Museum of Art)
10 Days in July 2020
7 Days in August 2020
10 Days in July 2020

10 Days in July 2020
2020
Prints on alu-Dibond
156 x 529,2 cm I 61.4 x 208.3 in

Self-portrait 20 07 19 – Living room, Arnhem, NL – 2020
Self-portrait 20 07 07 – Park Sonsbeek, Arnhem, NL – 2020
Self-portrait 20 07 29 – Living room, Arnhem, NL – 2020
Self-portrait 20 07 31 – Bedroom, Arnhem, NL – 2020
Self-portrait 20 07 06 – Hallway, Arnhem, NL – 2020
Self-portrait 20 07 21 – Park Sonsbeek, Arnhem, NL – 2020
Self-portrait 20 07 28 – Kitchen, Arnhem, NL – 2020
Self-portrait 20 07 27 – Living room, Arnhem, NL – 2020
Self-portrait 20 07 23 – Bedroom, Arnhem, NL – 2020
Self-portrait 20 07 17 – Park Sonsbeek, Arnhem, NL – 2020
7 Days in August 2020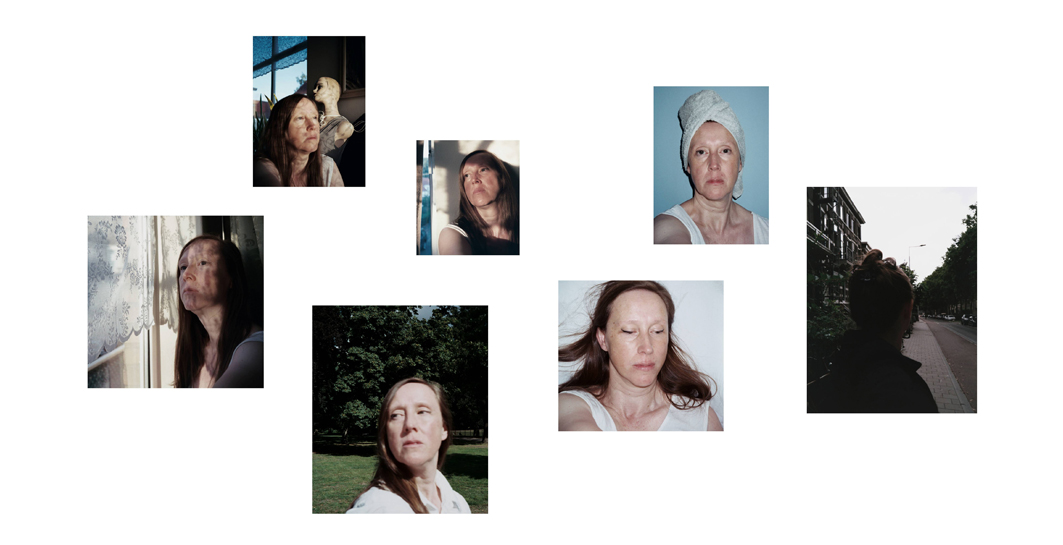 7 Days in August 2020
2020
Prints on alu-Dibond
159,6 x 297 cm I 62.6 x 116.9 in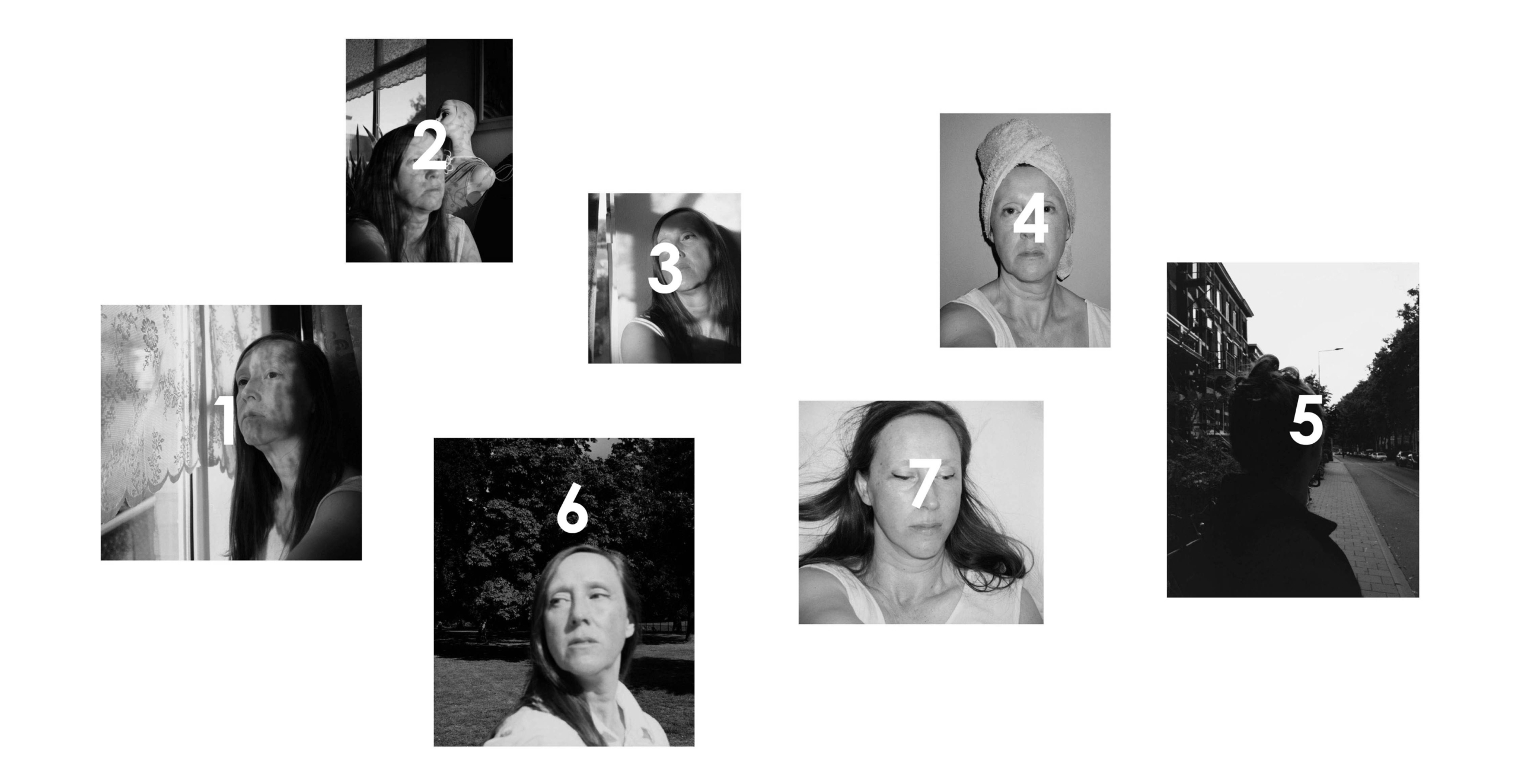 Self-portrait 20 08 28 – Living room, Arnhem, NL – 2020
Self-portrait 20 08 21 – Living room, Arnhem, NL – 2020
Self-portrait 20 08 12 – Living room, Arnhem, NL – 2020
Self-portrait 20 08 24 – Hallway, Arnhem, NL – 2020
Self-portrait 20 08 30 – Kastanjelaan, Arnhem, NL – 2020
Self-portrait 20 08 03 – Park Sonsbeek, Arnhem, NL – 2020
Self-portrait 20 08 09 – Living room, Arnhem, NL – 2020