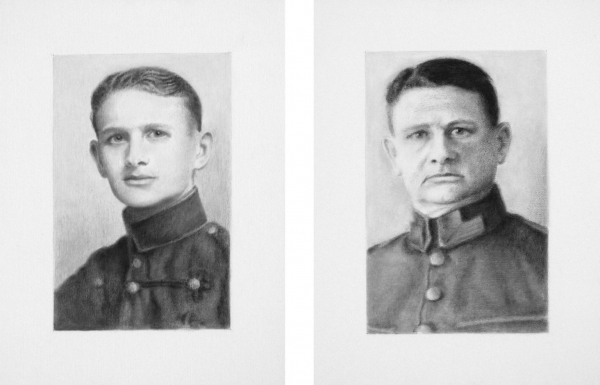 Dirk-Jan Schoot (19 and 42)
2008
Oil on canvas
2x 40 x 30 cm I 2x 15.7 x 11.8 in
Collection Museum Bronbeek
The Colonials. The Life of Seven Bronbekers.
June 20 – December 30, 2012
Solo Exhibition. Lique's grandfather Dirk-Jan Schoot is one of the seven 'Bronbekers', men who served in the Royal Dutch East Indies Army (KNIL) between 1850 and 1950. Afterwards some of them lived in Bronbeek, a former Royal palace in Arnhem. It was a home for old and wounded soldiers from the colony. Dirk-Jan is shown by paintings of Lique, at the age of 19 and at the age of 42.
The exhibition presents the rich history of the seven men. Clearly what their background is, why they enlisted in the colonial army and what their military careers and lives in Bronbeek looked like.
Museum Bronbeek
Velperweg 147
6824 MB Arnhem, NL