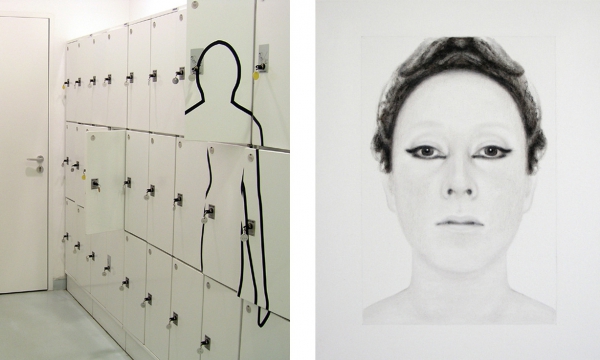 Left
Site Specific Self-portrait 10 09 13 – Fortuna
2010
Tape
Life size
Right
Self-portait 10 09 13
2010
Oil on canvas
50 x 40 cm I 19.7 x 15.7 in
O Fortuna !
October 10, 2010 – January 9, 2011
Group Exhibition with Contemporary Art and Design.
Curator
Tiziana Nespoli, Conceptual Thinker, Curator and Writer.
Participating Artists
Arno Arts, Lobke Burgers, Rosemin Hendriks, Floris Kaayk, Gerard Koek, Mirjam Kuitenbrouwer, Roland Schimmel, Andrea Stultiens, Simon van Til, Levi van Veluw, Lisa Vieten, F. van der Weide, Albert Van Der Weide, Suze May Sho, Lique Schoot, a.o.
Catalogue
O Fortuna!, CBK, Arnhem, 2011, NL
Press
Coincidence amazes and confuses us, Bob Witman, October 8, 2010, De Volkskrant, NL
Ego Portraitism, Maarten Reith, October 10, 2010, De Gelderlander, NL
BK-information, The Valkhof Museum – Exhibition 'O Fortuna!', 32 (8), December, 2010, NL
GBK-Newsletter, Interview by Art Historian Martin Pieterse, 4, November, 2010, NL
The Valkhof Museum
Kelfkensbos 59
Nijmegen
The Netherlands