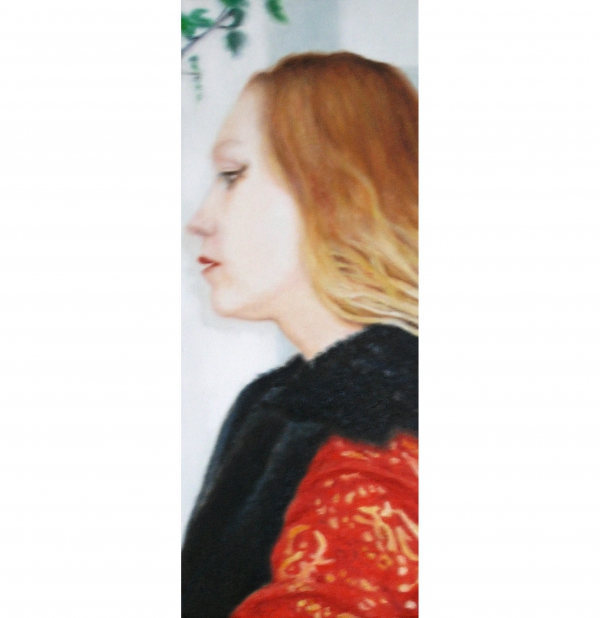 Self-portrait 05 03 24
2005
Oil on canvas
50 x 20 cm I 19.7 x 7.9 in
Private Collection
Women Painting Women
November 5 – 30, 2010
The Group Exhibition aims to highlight the works of more than 50 stellar female artists across the country and around the globe who are painting the female figure; the exhibit will be held in conjunction with the Charleston Fine Art Dealers Association's (CFADA – ww.cfada.com).
Robert Lange Studios
2 Queen Street
Charleston
USA
Press
American Art Collector 61, November 2010
WOMEN PAINTING WOMEN
With 50 female artists from around the globe and over 80 paintings, the Women Painting Women Group Invitational at Robert Lange Studios in Charleston, South Carolina, is the most ambitious show the gallery has ever curatored.
'Few people outside the art world can name female painters, with the exception of perhaps Frida Kahlo and Georgia O'Keeffe, and even fewer can name a painting of a woman created by a woman', says Megan Lange, owner of the gallery. 'However, there is a sensitivity to the female form that perhaps a woman can only truly understand.
According to Lange, the first known professional woman artist in the United States was Henrietta Johnston who worked in Charleston as a portrait artist beginning in 1707.
Following in these footsteps, Robert Lange Studios has included exceptional pieces of mainly figurative art by some of the top women artists painting today, including:
Amy Lind, Ali Cavanaugh, Terry Strickland, Candice Bohannon, Sadie Valerie, Rachel Constantine, Jennifer Balkan, Stanka Kordic, Lique Schoot, Jennifer Presant, Mia Bergeron, Jennifer Nehrbass, Sharon Sprung, Haley Hasler, Alia El-Bermani and Shannon Runquist.

Robert Lange Studios, 2 Queen Street, Charleston, SC 29401